Timeline Information
The CAMP form will be accepting submissions in the next year from December to June.  Several releases will occur each fiscal year.  The CPO Program Manager will decide when a release of funds will be initiated.  All funds to be awarded in a fiscal year must be provided to CPO by June 15, 2017.  If you have concerns regarding the deadline, please contact Shannon Louie.
Program Managers will be notified when the website is accepting submissions.  The revised timeline for CAMP submissions is simplified.  CAMP submissions may be entered at any time from December until the website closes in June of the same fiscal year.  An email announcing the opening of the website for the fiscal year will be sent to all prior users.  Reminder emails will be sent periodically during the fiscal year.
The pre-planning of activities on an annual basis will begin in April.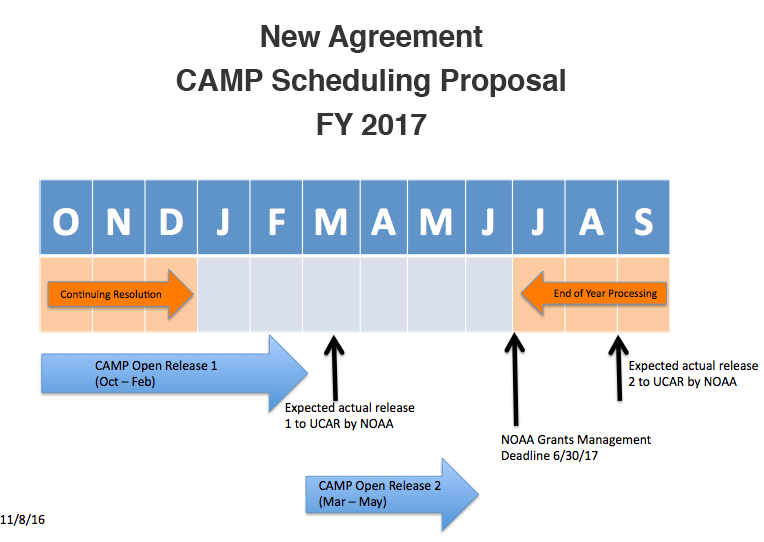 Pre-Planning of Activities on an Annual Basis
The input gathered using the CAMP website from April through May each year will provide the opportunity for users to enter activities by theme for the annual project plan and the last release of funds for the current fiscal year.
A Program Plan Submission will be compiled from the website input and submitted to Shannon Louie for review.  Funds will then be released during the summer for those projects being funded with current year funds.  Other pre-planned activities that will use funds from the upcoming fiscal year will be listed in the program plan in anticipation of the first release of funds in the new fiscal year, which is likely to occur in February.
New Agreement  
The new agreement will be started on or about 9/1/16 and it will expire on 8/31/2021. All submissions will be approved by Shannon Louie and Hanne Mauriello.
Old Agreement
The old CAMP agreement period of performance ends 8/31/16.
Questions / Answers:
Q: What if the fund source is still unknown at the time of the CAMP website deadline for input?
A: The deadline to submit the fund source on the CAMP website for FY17 is June 15, 2017.  Please contact Shannon Louie if you have questions.